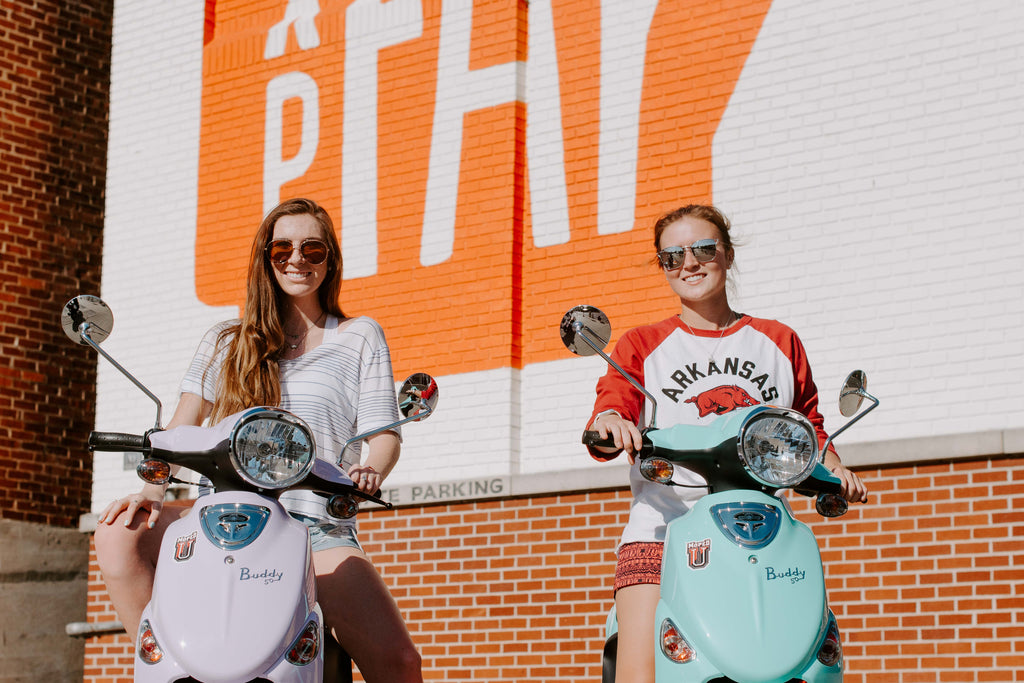 University Police and Parking to Enforce Scooter Rule
FAYETTEVILLE, Ark. – The popularity of motor scooters on the University of Arkansas campus is easy to understand: they're inexpensive, fun to ride, easy to park and they can go practically anywhere.
Those last two factors, however, are about to change, after a growing number of complaints from pedestrians on campus.
"It appears that many scooter riders don't understand that their scooters are motor vehicles under Arkansas law and are subject to the same traffic laws," said University Police director Steve Gahagans. "As a prime example, scooters may only be legally driven on the street. Not on sidewalks, plazas, lawns or, for that matter, inside buildings. University Police officers will be enforcing these laws and writing tickets when we see a violation."
Parking rules for scooters on campus will also be enforced. Under Arkansas law, all two-wheeled vehicles with a 50 cc engine or larger are considered motorcycles. Motorcycles on campus must be licensed, display University of Arkansas motorcycle parking permits and park only in designated motorcycle parking spaces.
Scooters, defined by state law as two-wheeled vehicles with engines smaller than 50 cc, also must be registered to park on campus.
"To park a scooter on campus owners are going to need  a University of Arkansas scooter parking permit and scooters may only be parked in designated scooter parking areas on campus," said Gary Smith, director of transit and parking.
Scooter permits must be displayed on the left front fork of the scooter, or as close as possible to the left front fork. The permit must be visible without having to move or remove any part of the scooter.
The transit and parking department has designated scooter parking locations on the Campus Parking Map available on-line at http://parking.uark.edu/parkmap.pdf. These will be marked or signed over the next several weeks, either with white painted boxes with the words "Scooter Parking" on the perimeter of the box, or with a sign stating "Scooter Parking." Scooters may not be parked at bicycle racks, inside or outside buildings and they may not be secured to trees, guardrails, handrails, signposts or any other campus element not specifically designated for scooter parking.  
"We will have parking staff patrolling inside the campus and ticketing scooters that are parked illegally," said Smith.
Scooter operators can get more information about parking when they pick up their parking permits. 
Uark News keeping us up to date on all scooter laws here in Fayetteville Arkansas! Be sure to swing by MopedU for all your questions or to hop on a scooter for a free test ride! 
---