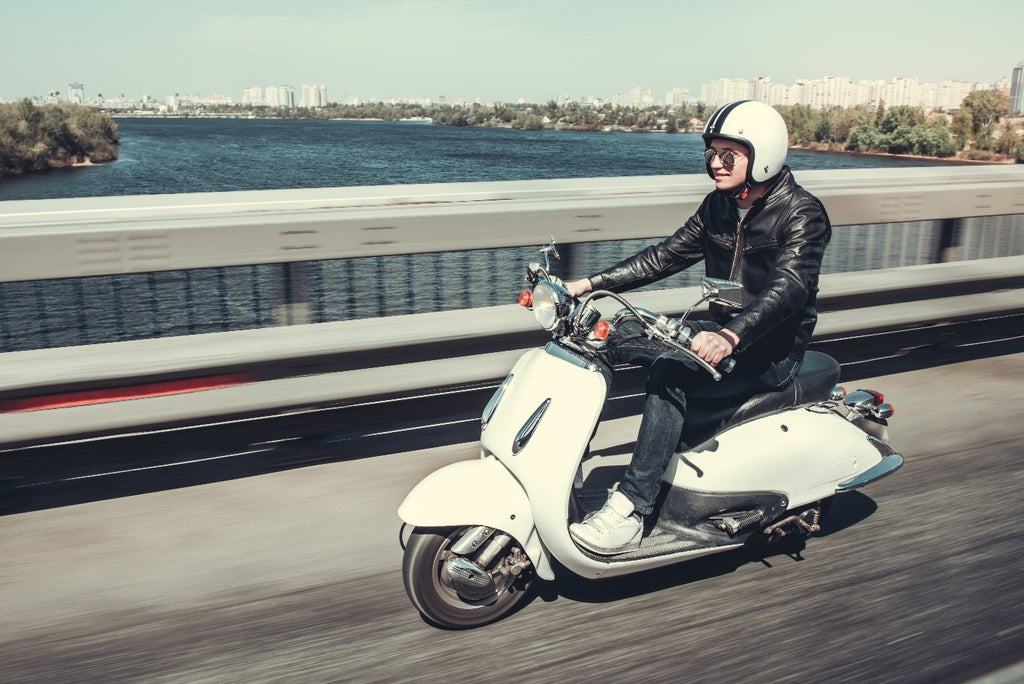 HOW TO RIDE A SCOOTER [6 TIPS YOU MUST KNOW]
  Fayetteville Arkansas! Check out this awesome article on scooter and moped riding tips. Swing by MopedU for all your Scooter and Moped needs! $0 Down financing for some Scooter and Moped models! Aright across from bright orange AutoZone, at 418 North College Avenue Fayetteville Arkansas. 
Riding a scooter can be SO much fun! Wind blowing through your hair. The warmth of sunshine on your skin. That unbeatable feeling of being right there in it, that up-close and personal, front row seat view of whatever beautiful landscapes your travels may take you through. But…there are some important factors that you need to think about before making your scooter purchase and getting it on the road safely. See our 6 tips below!
1) GET A SCOOTER THAT'S COMFORTABLE FOR YOUR BODY SIZE!
Make sure that you can comfortably put both feet down on the ground. This will help you mentally be able to prepare for your first ride on the road. If you can't comfortably put both feet on the floor, this can create a lack of confidence and fear of falling over or dropping the scooter. With both feet on the floor, you'll feel steady and stable
Like the scooter pictured above? Check out the Wolf Jet in white! https://www.wolfbrandscooters.com/scooters/wolf-jet/
2) GET THE RIGHT CC (ENGINE SIZE) SCOOTER. THE CC WILL DETERMINE THE MAX SPEED AND HORSE POWER OF YOUR SCOOTER.
What's right for you? A 50cc, 125cc, 150cc or maybe even a 200cc or 300cc Scooter?
First off cc just stands for cubic centimeters and is how we measure an engines size. The larger the cc the more speed and power you will have. Most scooters are either 50ccs (aka 49cc) or 150ccs. Sometimes you'll see a 125cc or 300cc as well, but those are less common.
I think most people would tell you to start off with a 50cc Scooter if you've never ridden before. And I could agree with that. However, a few things to consider are that you will quickly get used to ridding, no matter the cc of the scooter, and if you do actually need or want a larger cc scooter, but opt for a 50cc scooter instead, you'll be back at the dealership within a few months to trade-up, almost guaranteed.
Which means time and money! So, it would be my recommendation to get the cc you actually need, upfront. With some easy tips ahead, learning about and getting comfortable on your scooter shouldn't be too hard.
Are you only planning to take short trips, around the corner to work, or school, or maybe the grocery store? Will you mainly drive on small, inner-city roads, where the speed limits are around 40mph? Then a 50cc scooter may be just fine for you! A cool bonus is that you won't usually need much for a 50cc scooter in terms of special licensing, insurance, etc. You can verify that here on our blog post-
Motor Scooter and Moped License Requirements by State.
A 50cc will also generally be cheaper than a 150cc or above. So, if budget comes into play and you don't have far to go each day on your scooter. A 50cc might be the perfect fit!
Are you driving long distances on roads with heavy traffic? Will your scooter be your main mode of transportation? Maybe you'll need to jump on the highway sometimes? Will you drive on roads that have speed limits over 40mph, like 60mph?
A 125cc or a 150cc sounds like a better fit to me if you answered yes to the above!
A 200cc or 300cc scooter may be a good choice if you plan on doing a lot of highway and long-distance traveling and with a local weekend motorcycle training course, you could be in ship shape condition to ride in no time at all.
See TIP #4 below for more info on motorcycle courses.
3) SHOULD YOU GO AUTOMATIC OR MANUAL?
MOST scooters are "twist and go", meaning it's automatic and you won't need to switch gears. Not like back in the day, a lot of scooters were manual, meaning you would need to shift gears like on a motorcycle. If you are new to riding, I would definitely go automatic. Learning how to ride can be a small task but learning how to use and switch gears is a whole new subject in itself.
However, if you do want a manual, then you'll have to dig out old uncle Bob's phone number (you know…the one who rode a motorcycle in the 70s) and have him come and teach you! Having an experienced rider teach you is a must! Learning to switch gears isn't something I can really teach you in a simple blog post. Go take that motorcycle course and learn from professionals better yet! Continue reading for more on motorcycle courses.
4) SCOOTER SCHOOL
Take a motorcycle (scooter) safety course!!!
Taking a motorcycle safety course will teach you the ins and outs of riding your two-wheel cycle on the road. What to look for, what to do, what not to do, and how to avoid dangerous situations. I HIGHLY recommend and advocate a motorcycle safety course for anyone riding a two-wheeler of any kind. I have personally taken the course, as well as an advance motorcycle training course on a motorcycle race track, and I've learned things that I don't know how people even ride without knowing. Take one! It's worth every dollar and the weekend it will take to complete the course.
Check out this awesome motorcycle safety courses website and find a local course near you today! They even have "Scooter School" course on how to ride a scooter!
https://www.msf-usa.org/Default.aspx
5) GET TO KNOW YOUR SCOOTER- STEP BY STEP
I would of course go to scooter school to learn how to ride a scooter, but if you aren't going to go or can't for some reason, at least go to a large empty parking lot with your scooter (have someone experienced drive it there for you of course) and practice, practice, practice!
Maybe Start off by just getting a feel for giving the scooter some gas, and then a little more and a little more. Go straight first! Do not attempt turns or turning until you have mastered going straight and braking, straight and braking, repeat. Do this for a while until it's seamless.
Then after you can do that, you can start to add some wider turns in. Get to know your scooter and how it handles, what the acceleration and braking feel like, etc.
Once you can turn your scooter on, off, go, stop, turn, U-turn, park, backup, use your center stand properly, etc., you may be ready for a real road lesson, but again start off in a quiet neighborhood and drive around for hours until you're fully confident and comfortable. Do not go on major roads until you know you are ready and can handle it and have had excessive experience in empty parking lots and quiet safe neighborhoods. Just cruise around, take turns, lefts, rights (Yes use your blinker) stop, park, u-turn, do it ALL, before heading out to the big roads!
6) WEAR A HELMET (AND PROTECTIVE GEAR)
This is a very important tip! Wearing a helmet shouldn't be an option. To us, it's part of riding. So are safe shoes (not flip flops) and a motorcycle jacket made to protect your skin, elbows, and other important parts of the body, are highly recommended too. If jumping on your scooter Saturday morning to cruise down to the beach, tank top and flip flop clad, in your favorite Ray-Bans, we can't stop you of course. We do not advocate riding unprotected though. Be Safe, ride protected!

Well we hope you've enjoyed this article by Wolf Brand Scooters. We wish you safe and fun travels! If you found this article informative and helpful, please make sure to share it via your website, Facebook, Twitter, etc. And don't forget to leave a comment! Pretty please with a cherry on top!
The Wolf Team
All the information found on this website was collected through extensive research. However, Hammer Brand LLC., DBA Wolf Brand Scooters does not represent a legal law firm or entity in any way. We are not a government agency and cannot be responsible if laws change, are updated, or in fact never existed. Our readers are responsible for coming to their own conclusions and acting accordingly to the actual law in their state through their own research and counsel. We are only a guiding point with information to the best of our knowledge.
---